Since the birth of hip hop in the late 70s, fashion has played a major role in its existence. Over the years, fashion in hip hop has changed, evolved, and has even repeated itself in some cases. Starting from the very beginning, here is a time line of the bond and relationship between the two best friends: Fashion and Hip Hop.
The Late 70s/ Early 80s- The Intro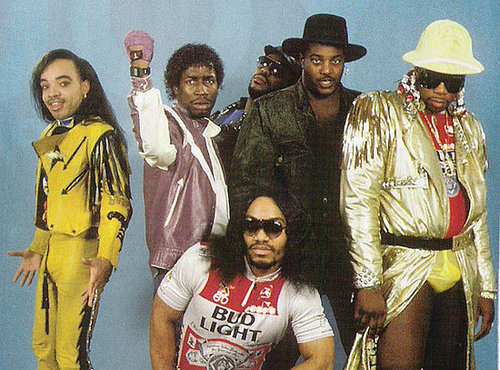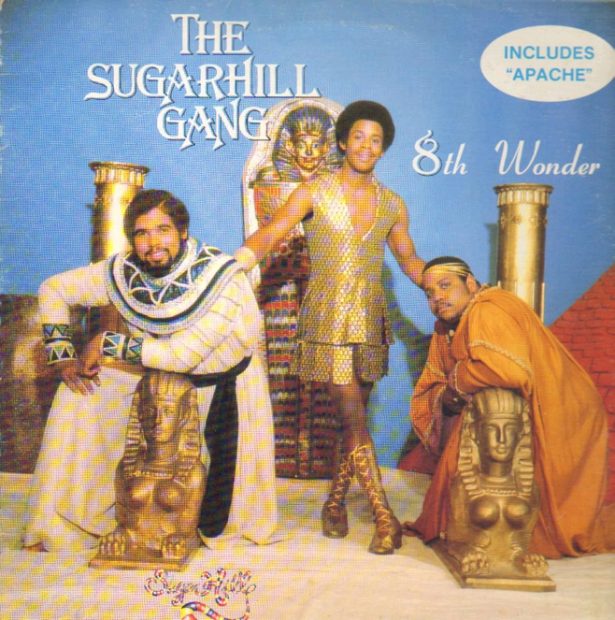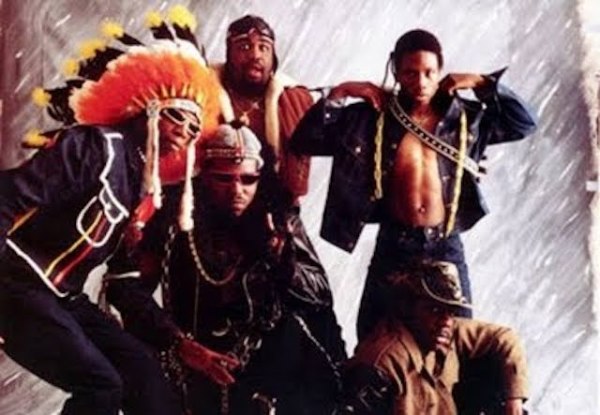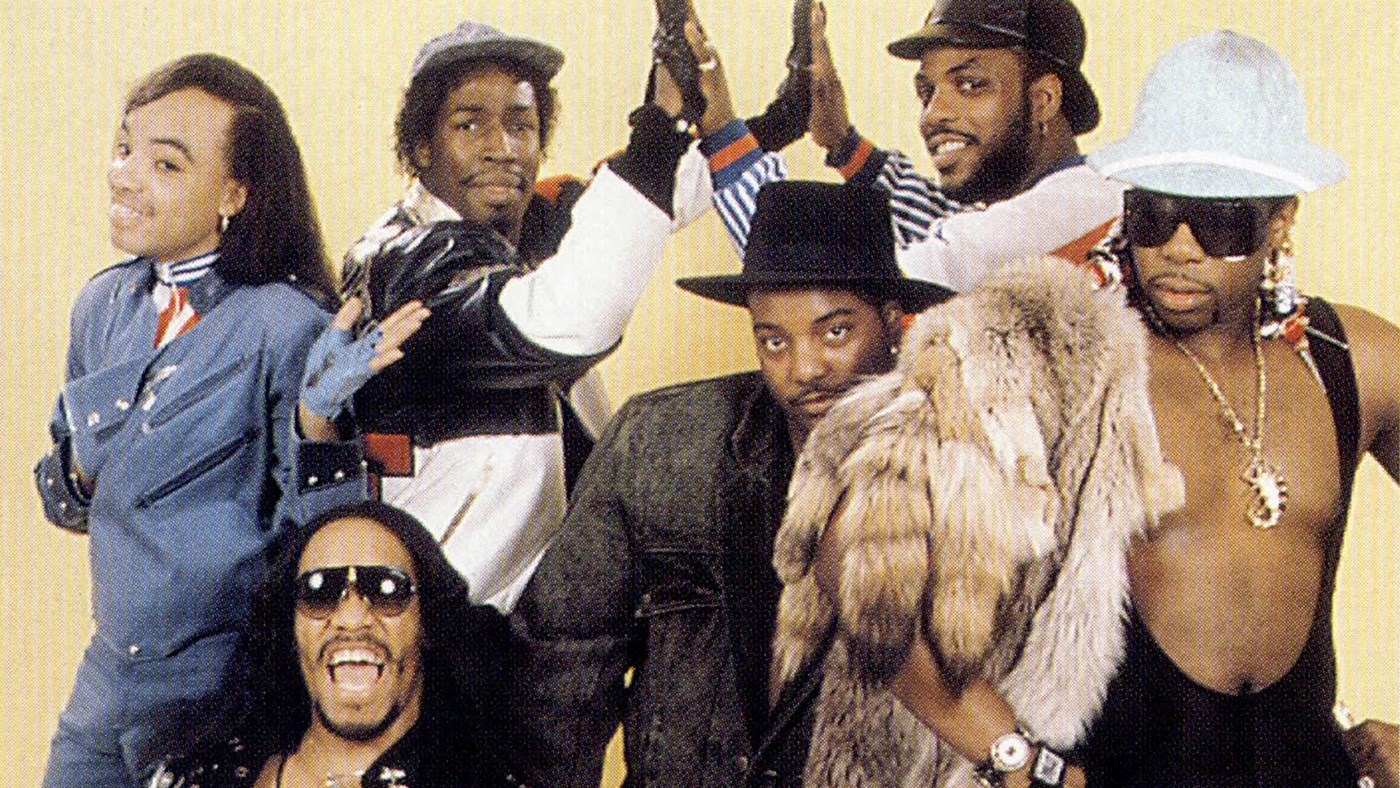 Pioneers of hip hop such as Grandmaster Flash and The Furious Five, The Sugar Hill Gang, and Afrika Bambaataa and the Zulu Nation, all held their own unique styles that made them stand out in a crowd. That's what hip hop is all about, since the very beginning, expressing yourself uniquely through your sound, dance, and fashion. Grandmaster Flash and the Furious Five were fearless with their fashion and dressed like hip hop rockstars. The Sugar Hill Gang weren't as loud but at the same time developed a style that was classic and relatable. Afrika Bambaataa and the Zulu Nation stayed true to their roots and brought a peaceful energy with their fashions inspired by funk, rock and the mother land. Leather, fringe, beading, gold, denim and all around funk style set the tone for the 70s and inspired the fashions that would pave the way for future hip hop style.
The 80s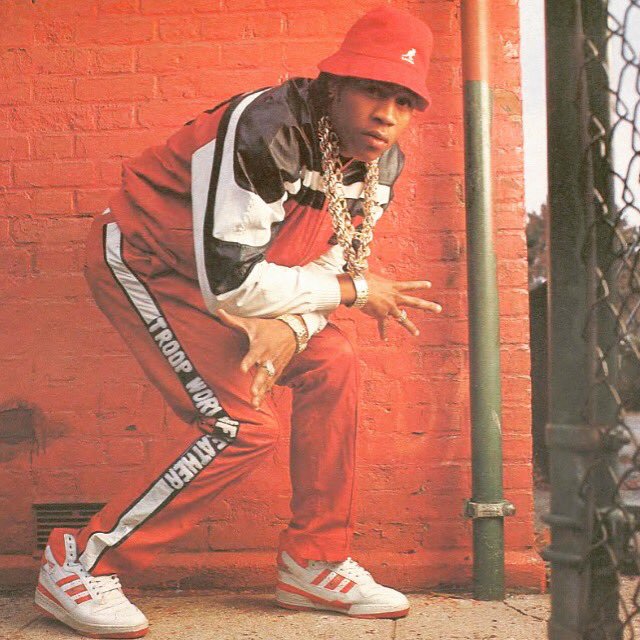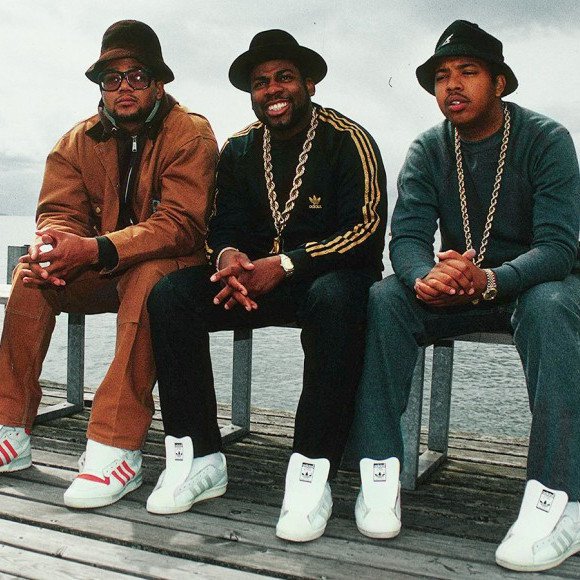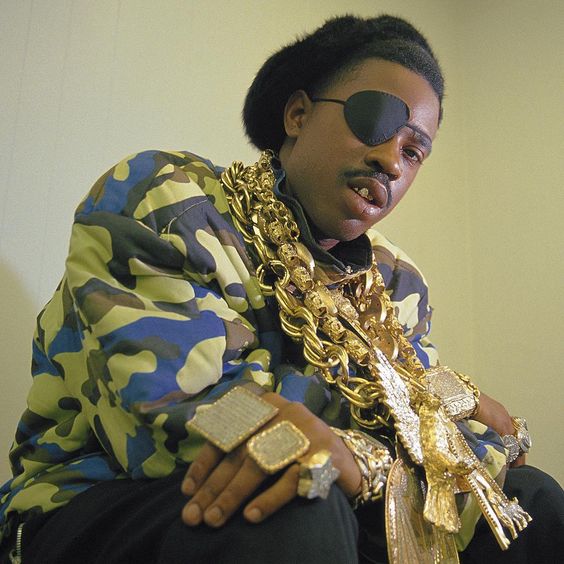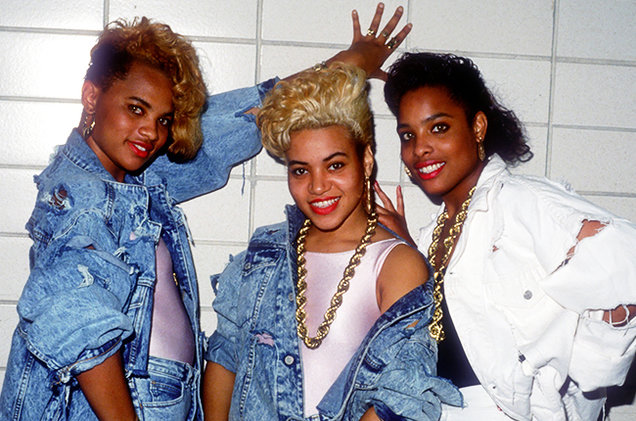 The 80s took a turn in fashion with trends that we loved. It was the birth of B-Boy fashion, with the Kangol hats, gold rope chains, classic Adidas, door knocker earrings, and denim sets. Hip Hop seemed to be here to stay and the money in it began to grow. 80s style influencers such as LL Cool J, Run DMC, Slick Rick, Salt n Pepa, and Big Daddy Kane turned trends to staples in Hip Hop Fashion history. Gold chains to this date are one of the most popular statement pieces in hip hop culture. Back in the 80's, these were some of the artists that helped make huge gold jewelry, name plated pieces, and big chains popular. Hip Hop began to become affiliated with being "Fresh". Fresh meaning flyest fashion and dopest jewelry. The relationship between fashion and hip hop became stronger.
The Dapper Dan Era (80s)
You can't talk about Hip Hop fashion in the 80s without mentioning Dapper Dan. Dapper Dan was a tailor/ fashion icon/ trailblazer that introduced Hip Hop to the designer fashion world with his custom pieces. From the Harlem hustlers to Hip Hop icons, Dapper Dan has customized pieces for artist like Salt n Pepa, Big Daddy Kane, LL Cool J, The Real Roxanne, Jam Master Jay, and many more. His pieces were custom-made using rolls of fake Louis Vuitton, Gucci and Fendi prints imported from Korea out of his Harlem boutique during the 80s. Dapper Dan made designer available for the culture and created a staple in Hip Hop fashion.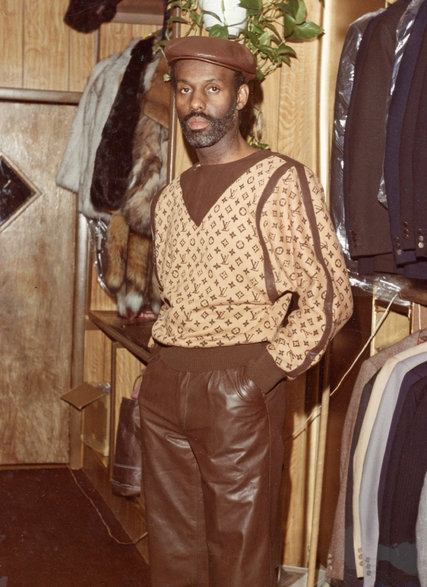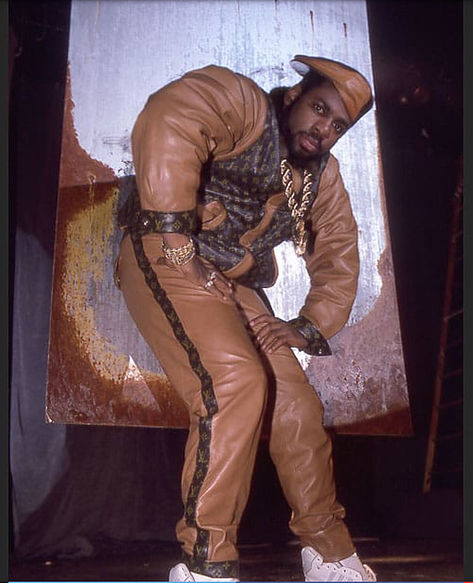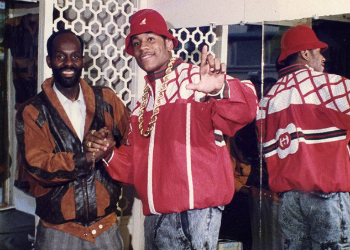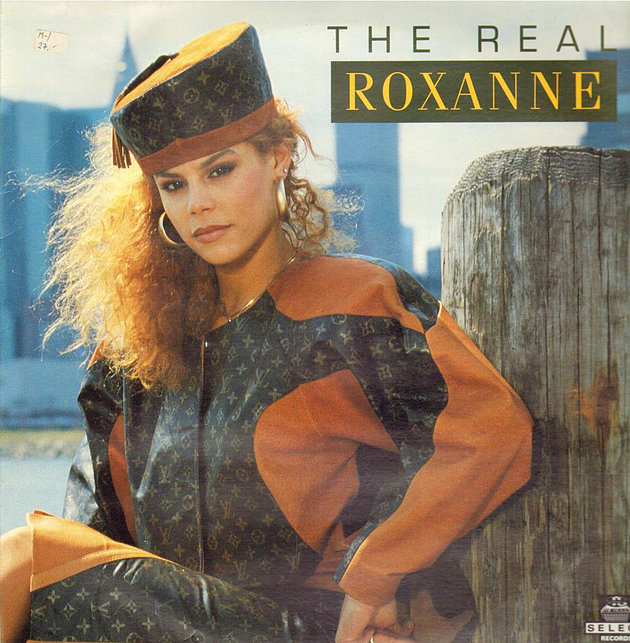 The Early 90s
Color in Hip Hop fashion has always been important. Vibrant colors that stand out has been apart of the Hip Hop uniform but in the early 90s it played a major role. Everything was about bright colors and wacky patterns. Queen Latifah, Fresh Prince Will Smith, TLC, Kid n Play and many more were known for wearing bright colors and having their own unique style. Hip Hop was all about fun, dancing and having a good time and fashion reflected that.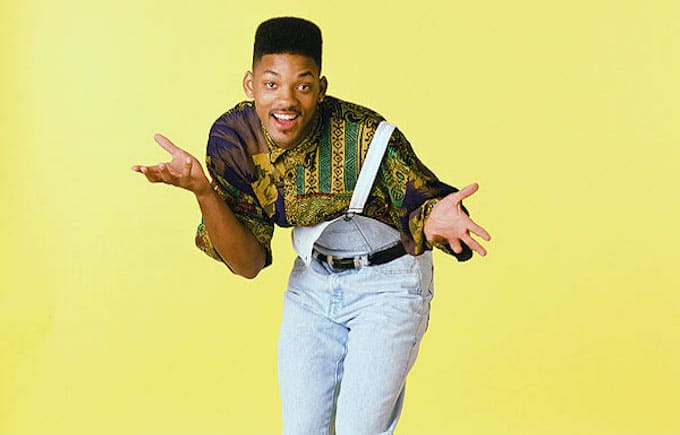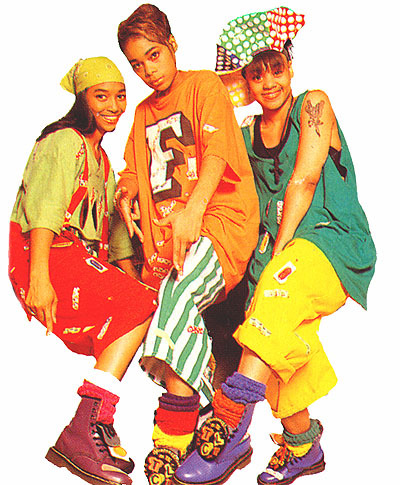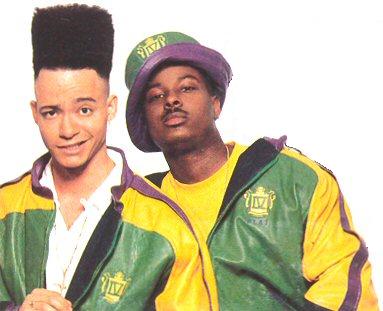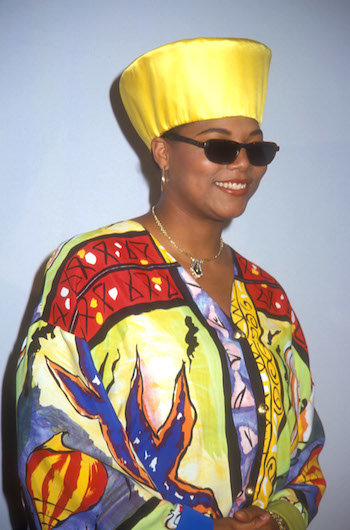 Mid To Late 90s
As the theme of music changed so did fashion. Even though it was still the 90s there was a shift of sound in hip hop. Those party jams turned into more aggressive raps, women acts became more sexy, and fashion changed in a major way. It went from colorful patterns to baggy jeans, Versace silk tops, Karl Kani outfits, big coats and athletic streetwear.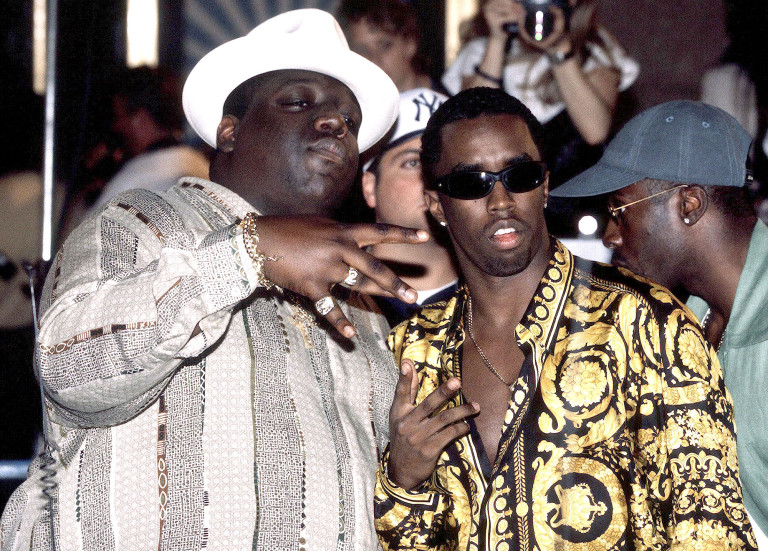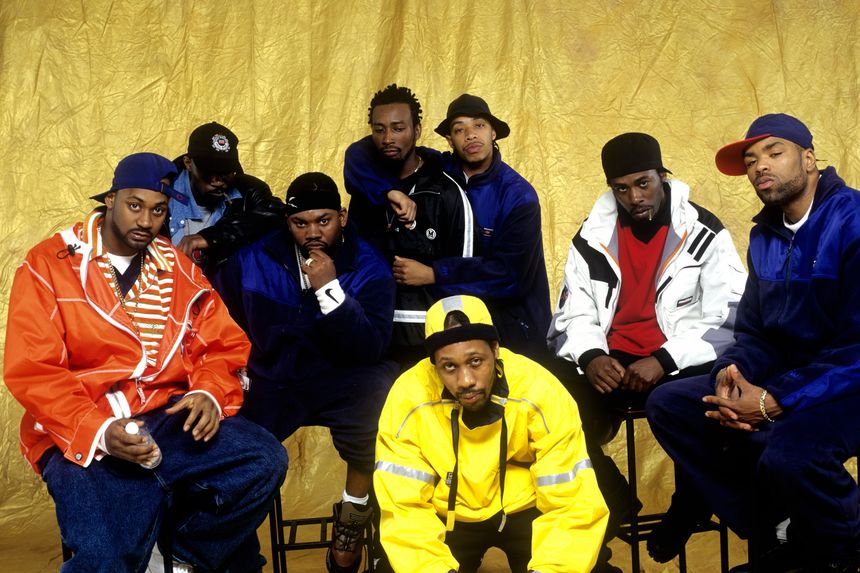 Women Fashion in the 90s
In the earlier stages of hip hop, although they were all unique, women such as MC Lyte, Queen Latifah, Lisa "Left Eye" Lopez, etc fashions weren't much different from the men. As hip hop began to evolve deeper into the 90s and women lyrics became more vulgar so did their style. Lil Kim and Foxy Brown were the main artists who stepped out of the norm. At this time, Da Brat was also on the scene but she stood out from the rest remaining true to her tom boy style as the others wore less. Salt n Pepa even adjusted to the change and became more sexy.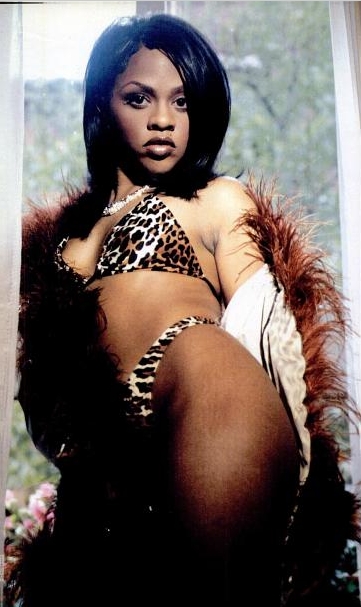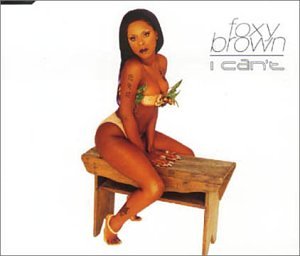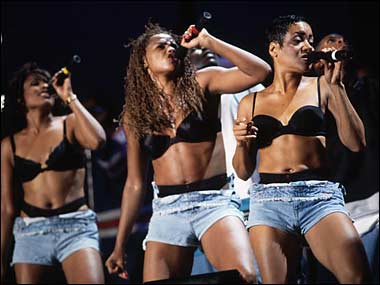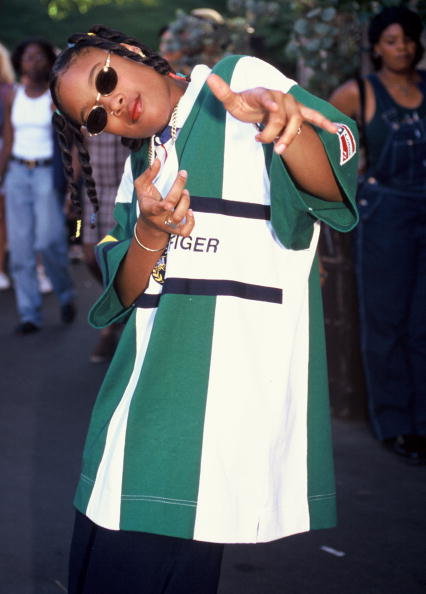 Karl Kani Era (90s)
You can't talk about 90s fashion without mentioning Karl Kani. While artists rocked their Polo Ralph Lauren, Tommy Hilfiger, Fila etc, a very important brand for the culture was Karl Kani. Straight out of Brooklyn, NY, Carl Williams founded his brand Karl Kani creating street wear that became popular in hip hop fashion. Nas, Wu Tang Clan, Biggie, Pac, everyone was rocking Karl Kani and his brand became an important part of 90s hip hop culture.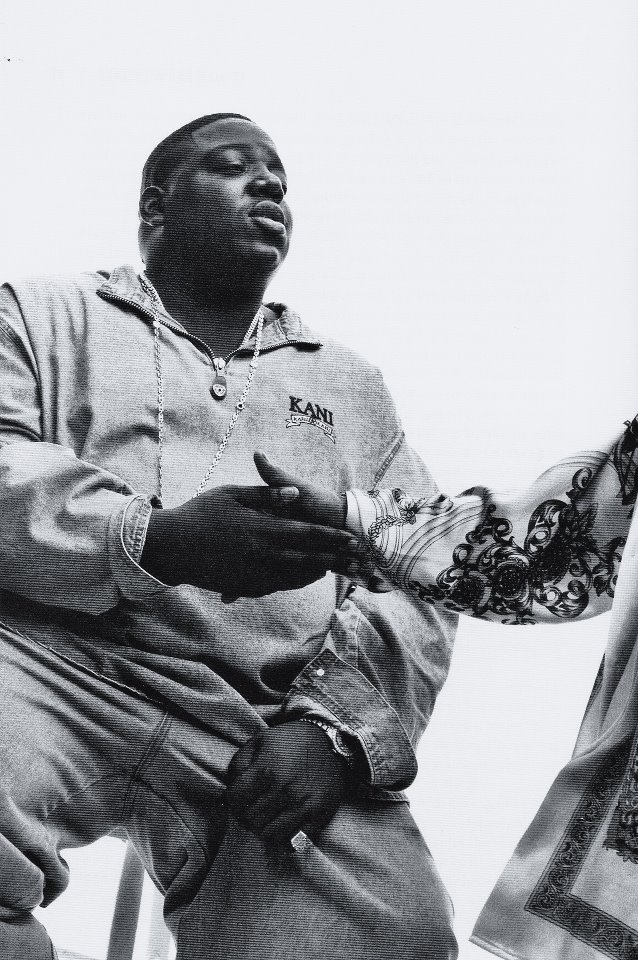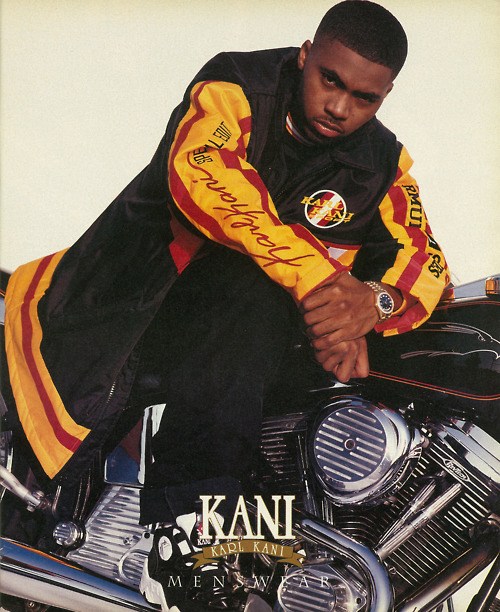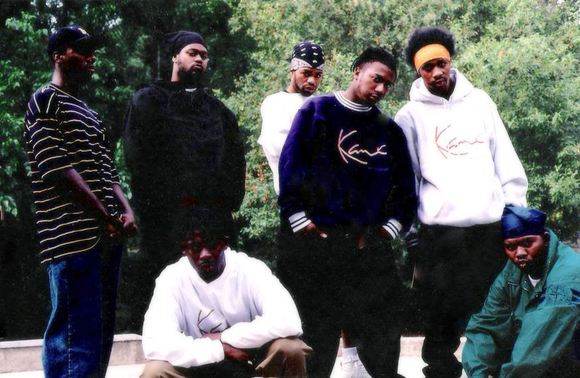 The 2000s
Many people didn't think hip hop would make it this far. 2 decades in, hip hop is still going strong but as always things are changing. With the death of hip hop legends Biggie and Tupac, many things weren't the same but hip hop still evolved and the 2000s introduced us to some new faces and styles. The genre began branching out and though we were very familiar with New York & California artist, southern acts begin making some noise. There was a shift in style which included nothing but throwback jerseys, bandanas, sweatbands, du-rags, and fitted baseball caps . These artist influenced fashion heavily and had everyone rocking this new wave of fashion.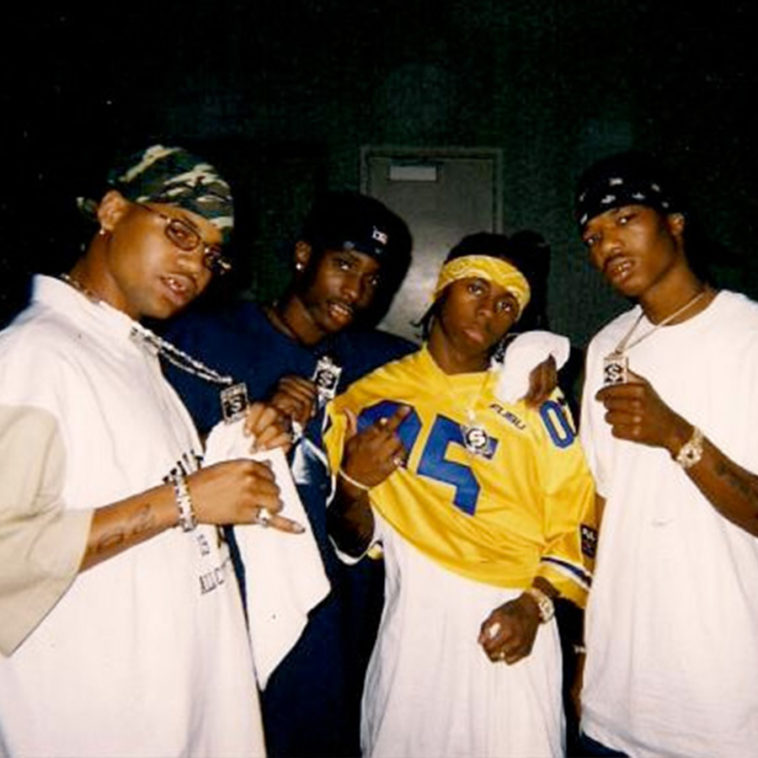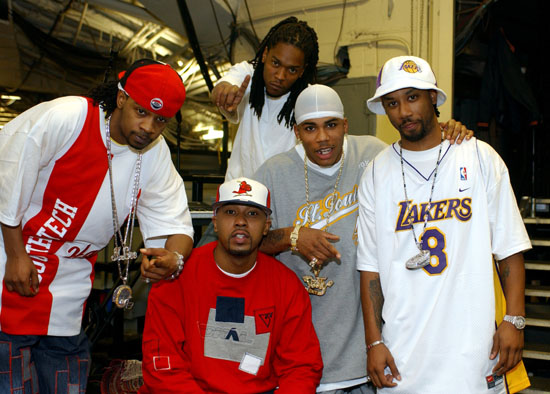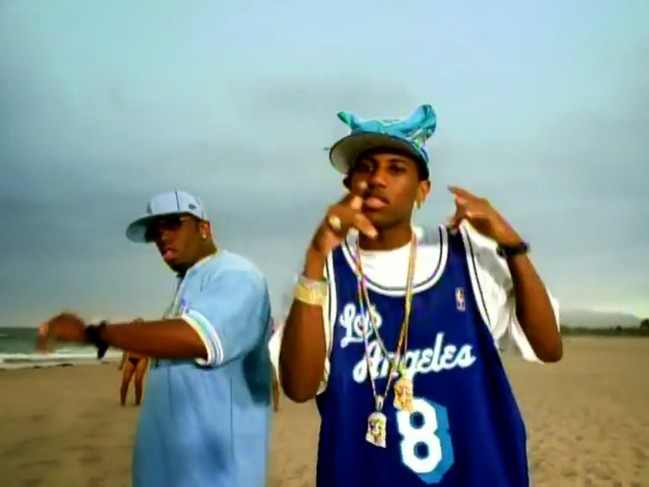 Dipset Style
Though everyone was rocking the jersey trend in the beginning of 2000s, the Harlem crew "Dipset" had to put their own flavor to what was trending. Their fearless fashions made them stand out from other rappers and had everyone wanting to be one of the diplomats. One of the main members who made major statements was Cam'ron who wore pink which wasn't very popular amongst men especially in hop hop. Also, Dipset member Juelz Santana became known for his multiple flavors of bandanas. These guys were trendsetters and they knew it.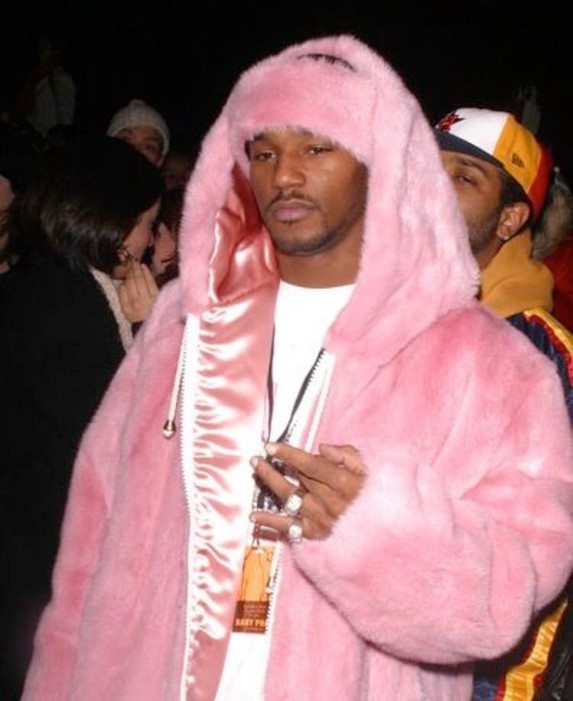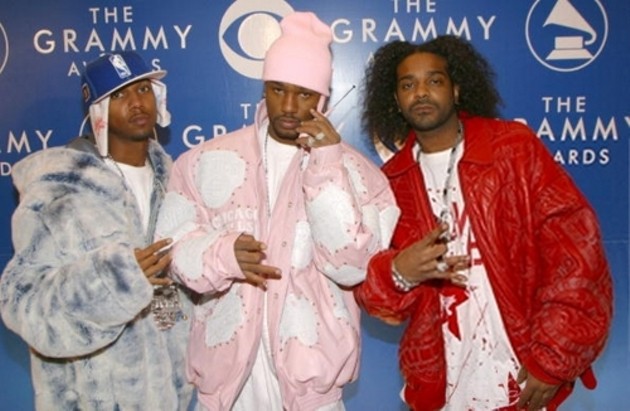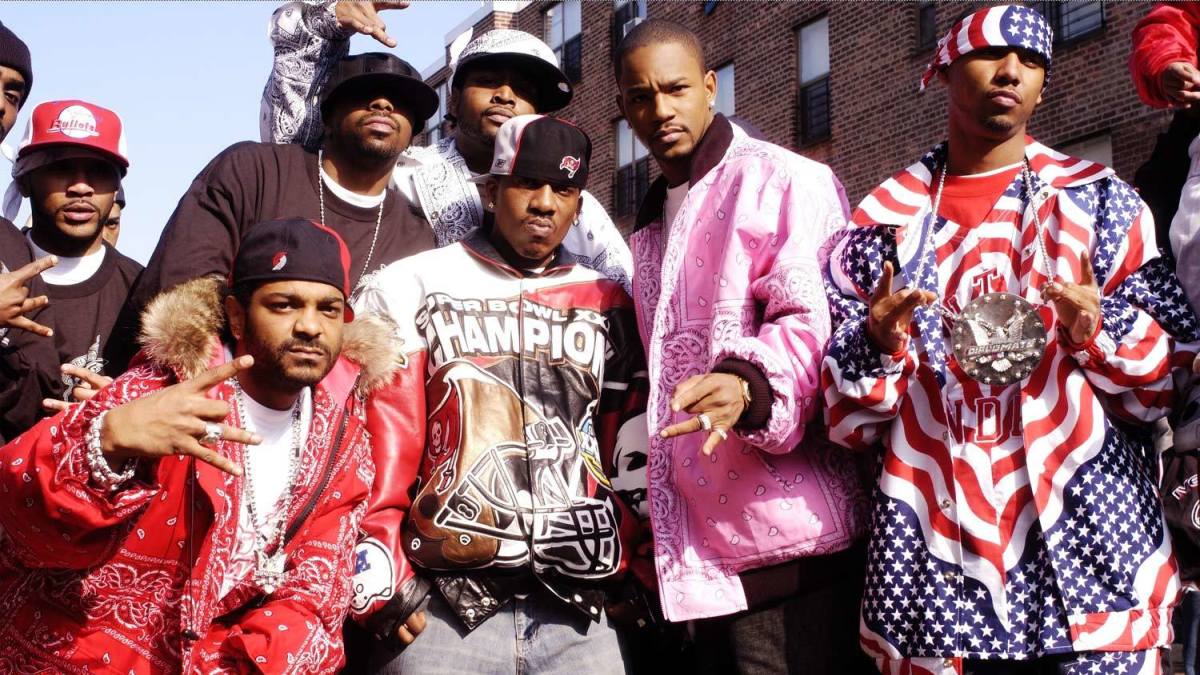 In the 2000s, many rappers began to have their own clothing lines. Hip hop was taking over the fashion world with Puffy's "Sean John". Jay Z's "Rocawear" and even Russel Simmons' "Phat Farm". But as the 2000s went on, styles began to change and things did get a bit weird. Many consider Kanye West to be a fashion icon and his style during the mid 2000s was just his own. Kanye did his own thing and followed his own trends when it came to fashion. He is a visionary. He resurfaced the trend of shutter shades and made it his own. Shutter shades first surfaced in the 40s, before Kanye was even of existence, and repopularize in the 80s. He brought the shutter shades back to life in 2007 and he wore them everywhere.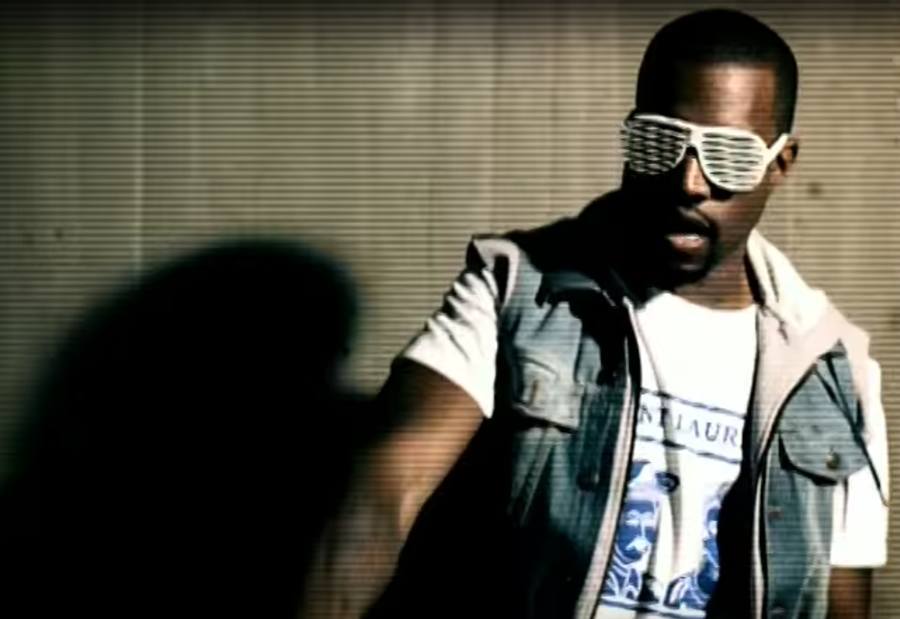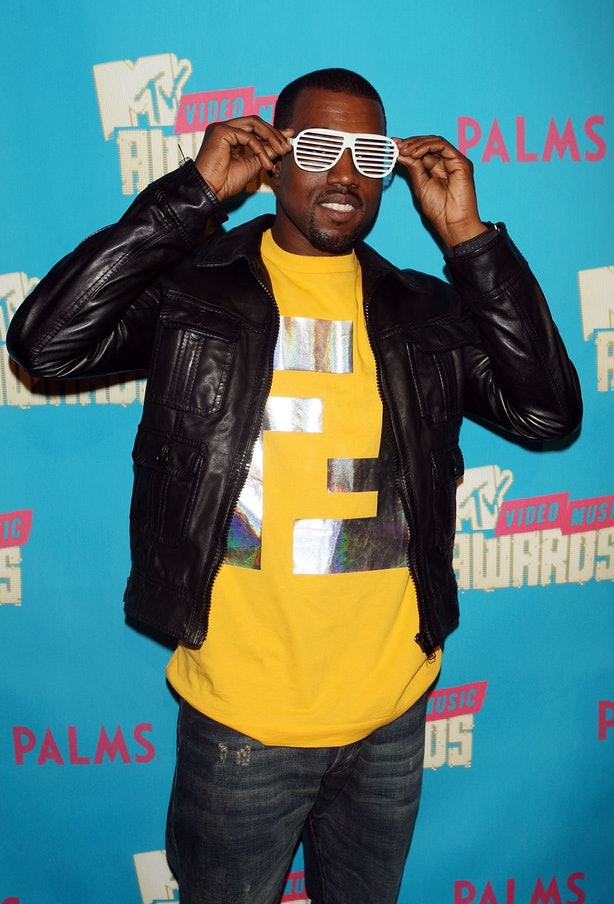 Later into the 2000s, extremely baggy clothes were beginning to die out and fashion was becoming more sensible. But many trends remained the same or even re occurred. Remember those Versace silk shirts worn back in the 90s. They became back in trend with new age rappers like French Montana and Migos bringing it back to life. in fact, Migos and rapper Drake made a hit titled "Versace". Versace has played a major role for the culture.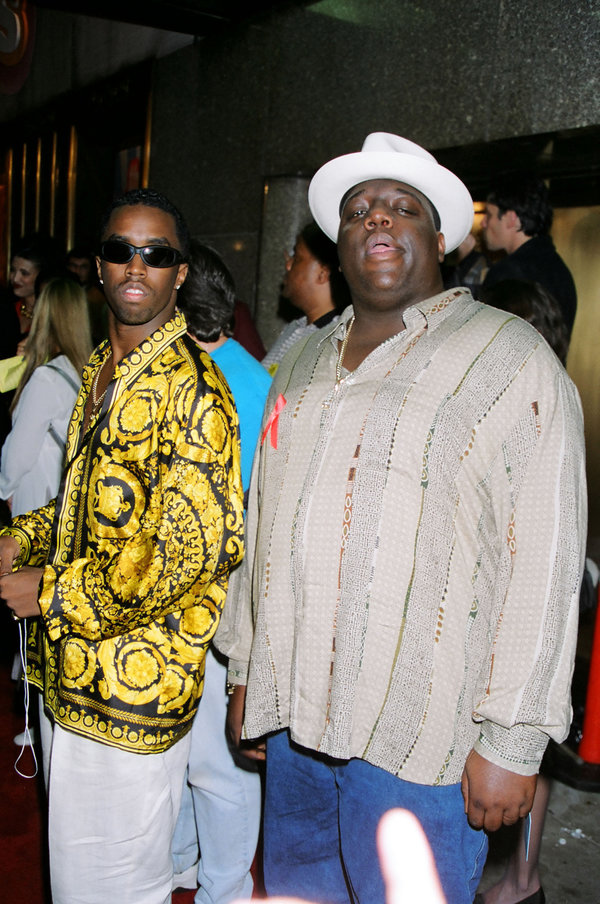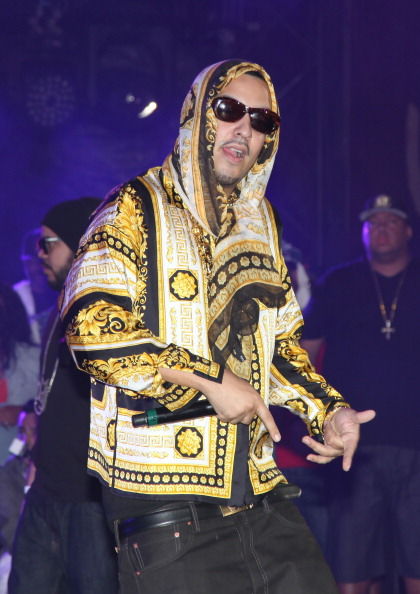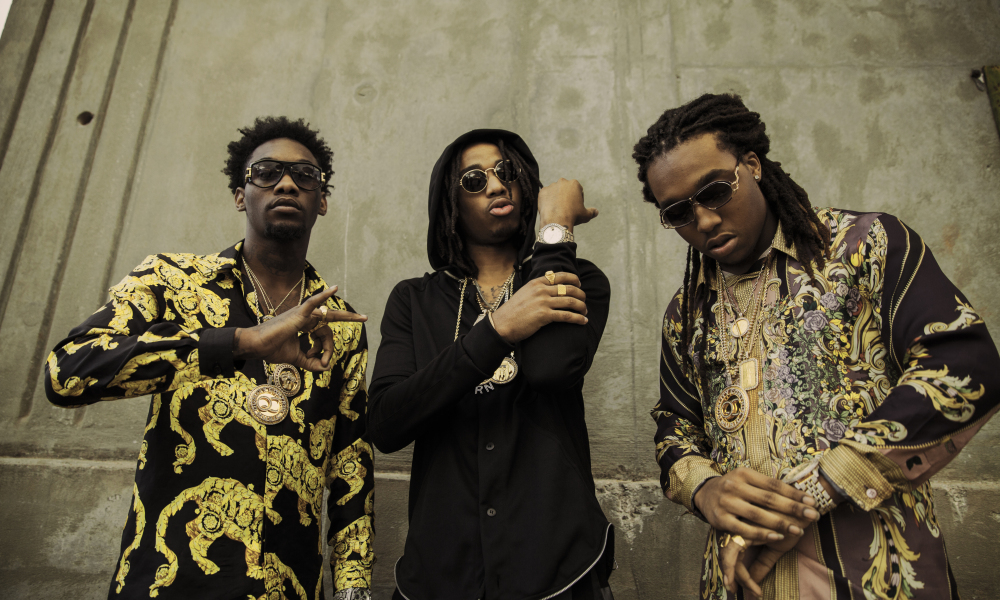 Fast forwarding to today, fashion in hip hop is at one of the wildest stages but at the same time very familiar. Those jerseys sported in the early 2000s have resurfaces along with those designer prints all over that Dapper Dan introduced us to. Even Karl Kani has made a comeback with the singer/ rapper/ actress/ dancer/ all around entertainer Teyana Taylor modeling his new line. Remember those multiple chains rocked by Slick Rick? They're here too. There are some styles that are just unexplainable but just like hip hop there's no need for explanation, interpret it however you please. Everyone has their own style and sound and owns it to the fullest. The relationship between fashion in hip hop is one that can never be broken. And though things do come and go, some things will never change. Here are some of the latest buzz worthy fashion statements of this new generation.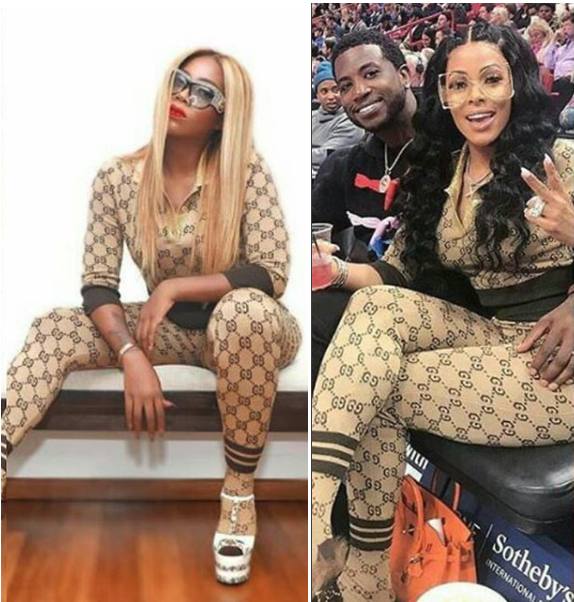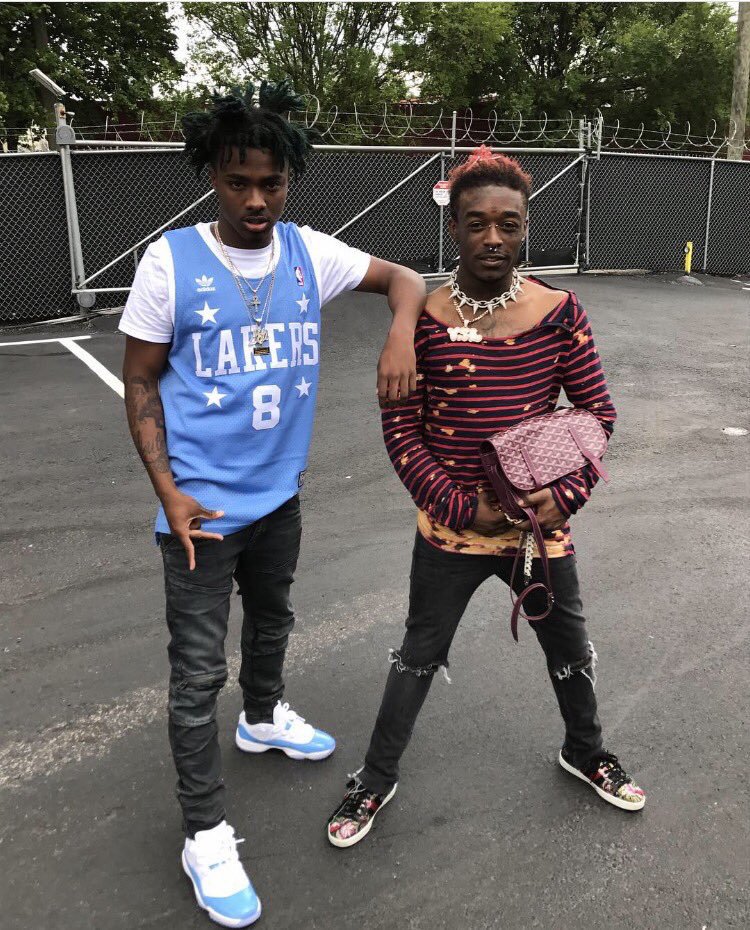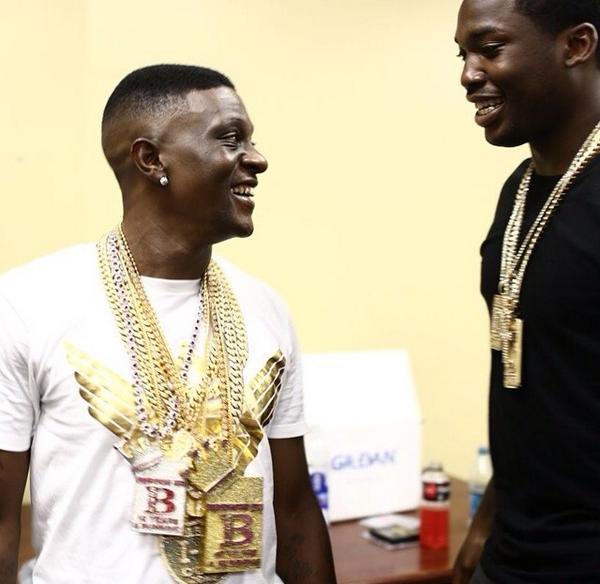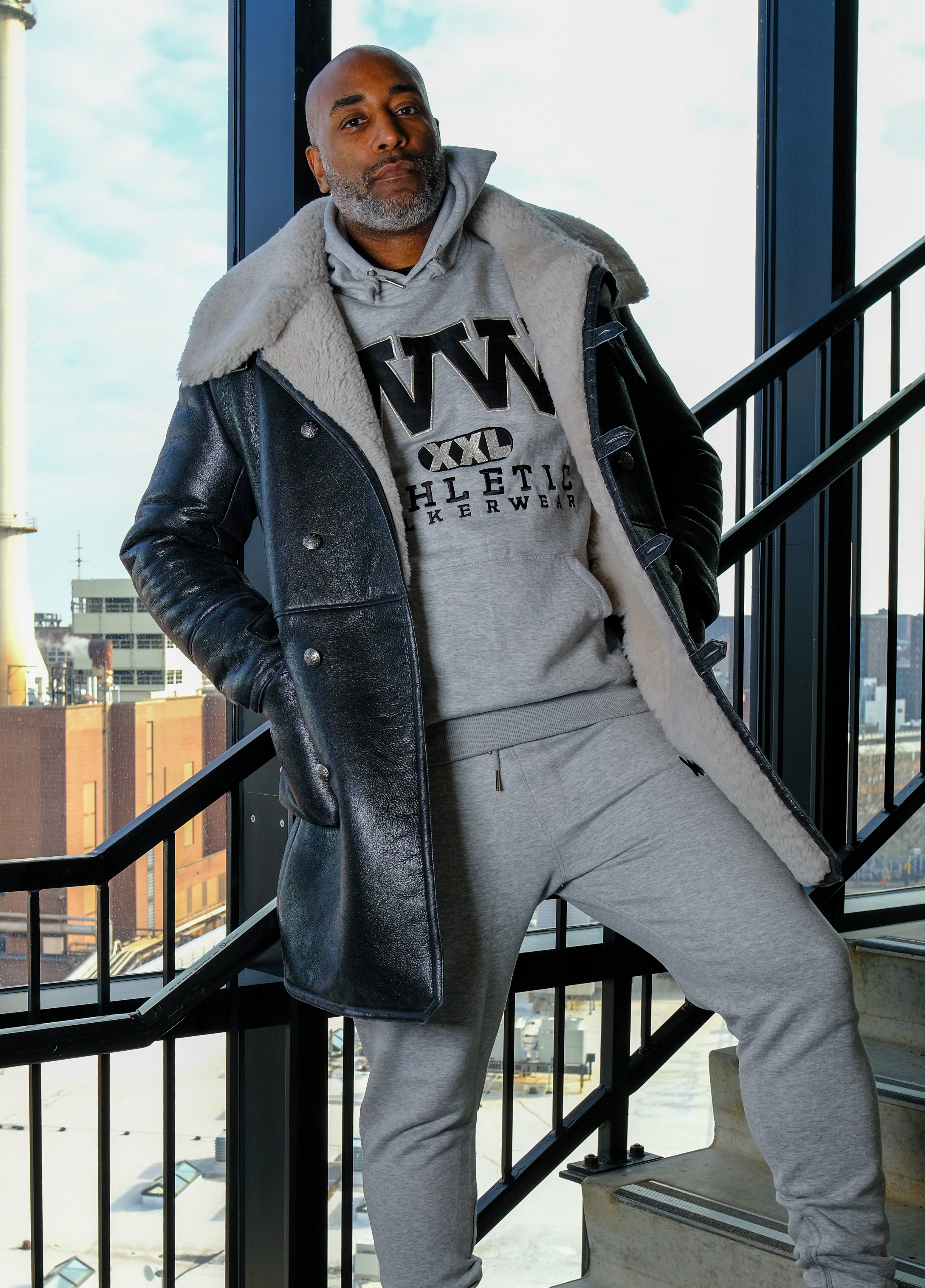 Recent Posts
We just love a great pair of sunglasses. But one shape does not fit all when it comes to finding a f …

You can thank Quarantine and Social Media for the latest tie dye craze. Tie Dye is nothing new in fa …

Outside is slowly opening up!!We miss you!!! It has been exactly 2 months that the showroom has been …