No New Friends
It only makes sense that when you "make it" you put your friends on too so, in honor of International Friendship Day, we've decided to take a look at a few of the most recognized friendships in Hip-Hop. Specifically those that were strong even before the fame. Friends that held the door open for their crew to storm through and eat with them.
10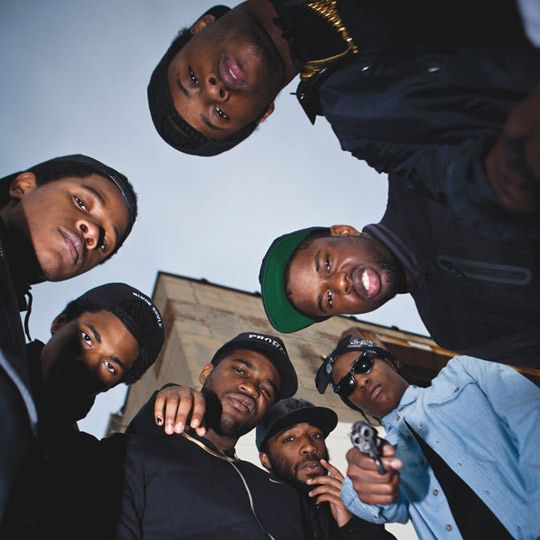 A$AP Rocky and A$AP Bari
"A couple more commas richer and I'm still mobbin with my Niggas, bruh" ~ A$AP Rocky
The late A$AP Yams' is seen as quite an innovator and visionary in the hip hop community. Famed for the founding of the highly successful A$AP Mob, you can say that they put Harlem on the 'Cloud Rap' map. Yams began laying the foundation for the crew as early as 17, when he and friends A$AP Bari (Jabari Shelton) and A$AP Illz (Illijah Ulanga) came up with the group's name which is an acronym for "Always Strive and Prosper". Bari brought in his childhood friend A$AP Rocky who is the groups most well-known and successful member. In an interview with Complex Magazine, Yams explains how he met Rocky saying "I met Rocky through a mutual friend, A$AP Bari. He told me, 'Yo, I've got this kid. He's rapping.' He was telling me for months, and I kept putting it to the side until I was able to meet him. Then I was like, 'This motherf-----'s crazy.' After that, it was on." A$AP Rocky later added his childhood friend A$AP Ferg to the mix, they had been working together since their early teens. The crew grew from there with each member bringing in a friend now the crew has 14 plus members.
9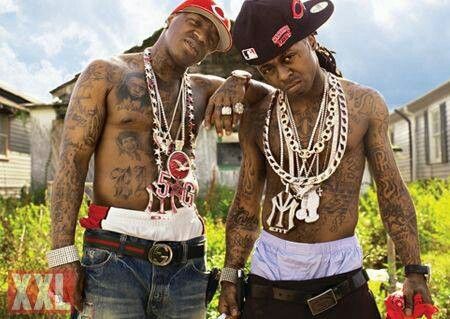 Birdman and Lil Wayne
"When the crowd call my name I bring my crew to the line" ~ Lil Wayne
Artist Lil Wayne wrote his first rap song at the age of eight, he says he didn't write the verse with the intent of it really making any waves. About a year later in the summer of '91, he met Bryan "Birdman" Williams, rapper and owner of Cash Money Records, Carter got Birdman's attention by leaving freestyle rap messages on Birdman's answering machine leading Birdman to take him under his wing and make him the youngest member of the Cash Money crew. In 2006, the duo released Like Father, Like Son, an album which combined the talents of rapper Lil Wayne and his "adoptive father". The album did fairly well and several solo albums later he started his own lucrative Young Money label, that houses some of the top acts in Hip Hop, including Drake and Nicki Minaj.
8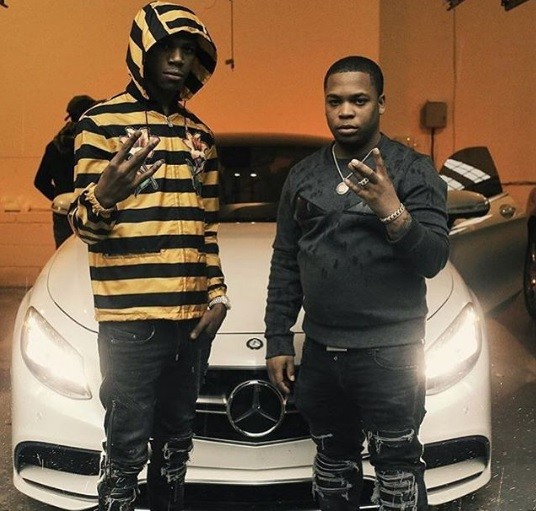 -
A-Boogie & Don Q
"I came here with all of my niggas, Imma stay here with all of my niggas" ~ A-Boogie
Fairly new Bronx, New York born artist A-Boogie began his career under a year ago when deciding to drop his first mixtape entitled "Mixtape" on the tape A Boogie related to his listeners in a way that pushed him amongst not only top mainstream artist of today but also the freshman XXL class a coveted spot for up and coming hip hop artist. However A-Boogie hasn't stopped there the now the 21 year old rapper has also started his own record label named after his neighborhood high bridge. The label began as a means for the young artist to "get out of the hood" however as the label began to grow A-Boogie was able to bring on childhood friend and artist Don Q. Since his addition, the label has expanded beyond anything they could have imaged, and has even joined forces with well known label Atlantic Records. In an interview with DJ Envy for Sirius XM, Don Q mentions how surprised he was about how well the label has done in such as short amount of time, expressing how while at a performance in Atlanta he was impressed by how many people knew the lyrics to their songs, as well as how much they really respected what they were doing. While Don Q and A-Boogie are currently the only artists on the label it is clear that they are looking to keep expanding, and really build up the High Bridge empire.
7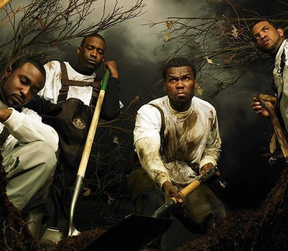 50 Cent and G-unit
"Every hood we go through. All the gangsters around know my whole crew" ~ 50 Cent

Hip hop artist 50 Cent began his music career in 1996 when a friend introduced him to Jam Master Jay of Run-DMC, who at the time had just founded Jam Master Jay Records. Upon meeting him Jay was intrigued by 50's passion and skill level deciding to coach 50 on the ins and out of Rapping. He taught him everything from counting bars, write choruses, structuring songs and essentially the art of making a hit record. This lead to his first mainstream feature on "React" with Onyx. After 50 left Jam Master Jay, he was signed to Columbia Records, where he then produced a multitude of tracks which he included on his 2000 album, Power of the Dollar. An album that really set the bar for the quickly rising rapper. Though it wasn't until the popularity of his controversial underground single "How to Rob", where he rapped about "how he would rob famous artists" that his career really set off. Allowing him to come up with the idea of forming a group with by longtime friends, Tony Yayo and Lloyd Banks which they called G-UNIT. The group released their debut album Beg for Mercy, in 2003, the album went on to sell over 2,000,000 copies in the US and was certified Double Platinum.
6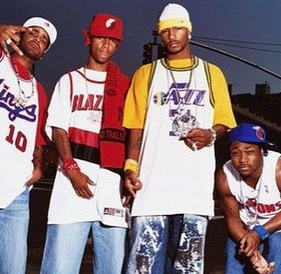 Cam'ron and Jim Jones
"Dipset, shit we more than just a crew, we thick up in the hood" ~ Dipset

Rapper, actor and entrepreneur Cam'ron began his career as a member of the group children of the corn when the group split around 1997 it left Cam'ron searching for his next move. Shortly after he released his debut album featuring his long time friend Jim Jones they decided to form the group Diplomats. Since coming together the group was doing fairly well, although they all felt as if there was something missing, months later a childhood friend introduced him to his cousin, hip hop new comer Juelz Santana. Upon meeting him Cam'ron asked him to spit on the spot. In an interview with world star hip hop Juelz mentioned, he was initially shaken up but he knew this was his chance so he went for it. Cam'ron was immediately impressed, knowing then that Juelz was the missing part of the group. For the next few years, the Dipset worked tirelessly to make it into the mainstream market. These efforts certainly didn't go unnoticed, In 2001 the group secured a recording contract with Def Jam and subsequently began recording their debut album, Diplomatic Immunity. Following the success of the project, they later moved on to indie record label Koch Records, to release their second album Diplomatic Immunity 2. Followed by Interscope Records in May 2013. While the group has moved around a lot it's safe to say that being in the right place at the right time could mean having the experience of a lifetime.
5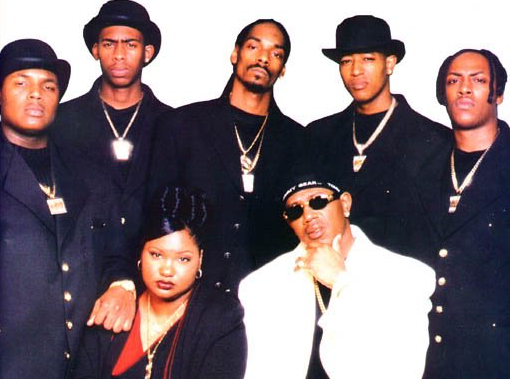 Master P and No Limit
"TRU tattooed on my back bitch thats my click, Ready to hop into some motherfuckin gangsta shit"~ C Murder
Former basketball player and a man of many talents, Master P is best known as the founder of the record label No Limit Records, under Universal Records and Koch Records. Rightfully named Master P his talents also include a rapper, actor, filmmaker producer and businessman. Master P gained his fame in the mid-1990s with the success of his group TRU along with the success of his biggest singles, "Make 'Em Say Uhh!", which went double platinum. Followed by his 1998 release of his most successful album, MP Da Last Don, which hit number 1 on the Billboard Top 200 chart, selling over 400,000 copies in a week and album that was certified 4× platinum, with over four million copies sold. Much like the other artist mentioned Master P didn't let this fame cloud his judgment, he was sure to make certain that his two brothers artist Corey "C-Murder" & Vyshonne "Silkk The Shocker" Miller made their way to the top as well. With the help of his brother, Silkk was able to collaborate with artist Mýa on the lead single from his album Made Man, on a track entitled "Somebody Like Me", which became one of the year's top-selling singles on the Billboard charts. He then dropped the track "That's Cool" featuring rapper Trina which made it to #13 on the Hot R&B/Hip Hop Singles & Tracks. Both of which allowed Silkk to become a mainstream success in his own right. Though Silkk was not alone his brother C-murder was right behind him with his 1998 release of his debut album Life or Death which made it to number three on the US Billboard 200 with 197,000 copies sold the first week. With the success of all three brothers it's clear that these artists have a strong sense of family support something the industry definitely could use more of.

4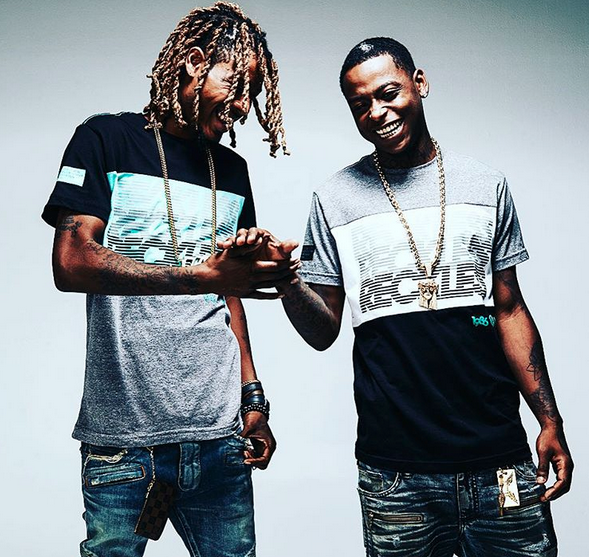 Fetty Wap and Monty
"RGF the squad and we not recruitin'" ~ Fetty Wap

Fetty Wap and Monty have known each other for quite some time, it was long before the fame. According to Monty they met one another at "a chicken store in the hood". It was Fetty that really set the duo on to new heights after his debut single "Trap Queen", which reached number two on the U.S. Billboard Hot 100 charts. Leading to Fetty securing a record deal with 300 Entertainment whom he subsequently released two Top 10 singles "679" and "My Way". Fetty then formed the Remy Boyz 1738 with friend his friend Monty. It's amazing that all of this success came from someone going to get some chicken!

3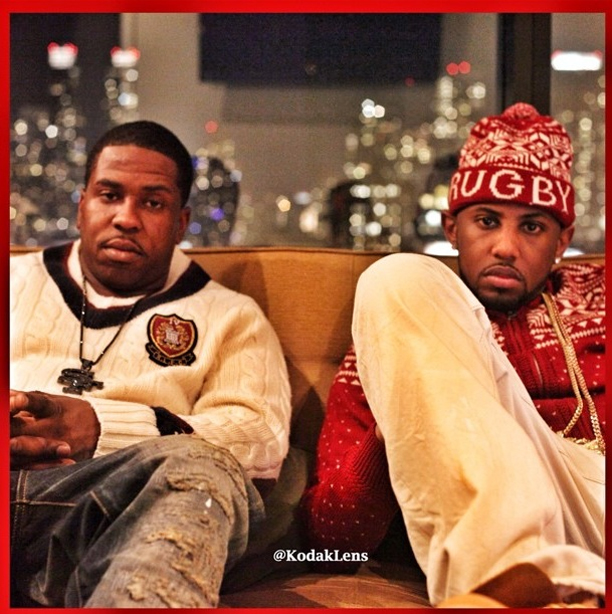 Fabolous and Paul Cain
"My crew ain't playing and we ain't for the fuck shit" ~ Fabolous

Fabolous's hip hop career began in his senior of high school when he ended up rapping live on DJ Clue's radio show leading him to be featured on Hot 97. He subsequently was signed by DJ Clue to his label Desert Storm, allowing him to secure a distribution deal with Elektra Records. He went on the reach great height with his singles Ghetto Fabolous (2001), "Can't Deny It" and "Young'n (Holla Back)", "Can't Let You Go" and "Into You". In 2004, Jackson signed to Atlantic Records where he dropped an array of chart topping tracks such as "Nothin' to Somethin", as well as his fifth album, Loso's Way. Luckily enough with this new-found success Fab was able start up Street Family Records which featured some of his closest friends such as Freck Billionaire, his brother Paul Cain, Broadway and Red Café. While the group was quickly dismantled because of some larger issues. It was still an great example of an artist who did not forget the rest of his team when he got on.

2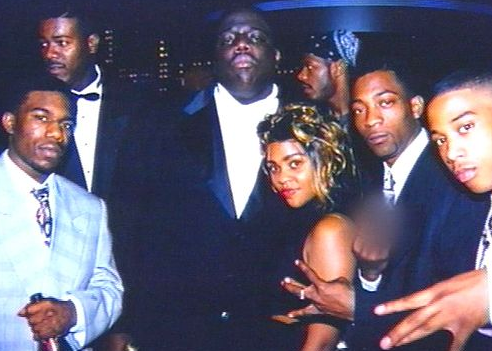 Biggie and Junior M.A.F.I.A
"Junior M.A.F.I.A. clique think like Luke dancers" ~ Notorious B.I.G.

The idea for the Junior M.A.F.I.A. (M.A.F.I.A. stands for Masters At Finding Intelligent Attitudes) came from late artist Biggie Smalls who essentially went through his rolodex of childhood friends who he knew could rap. His team was a mix of neighborhood friends and classmates. Biggie and Junior Mafia were the epitome of putting your friends on when you make it! The group started out with three separate smaller groups. Starting with the 6s, or 666, (Lil' Cease, Bugsy, Capone, Chico, and Nino Brown), The Snakes (cousins Larceny and Trife), and MC Klepto, and Lil' Kim, (a.k.a. Big Momma or The Lieutenant) the only woman in the group. As things heated up for the group they began work on their debut album, Conspiracy which was released in 1995, under the NYC-based label Big Beat Records. While critics scrutinized the sound of the album saying it was far too similar to Notorious B.I.G.'s "Ready to Die " The album was still a success debuting at number eight on the US Billboard 200 charts, selling 69,000 copies in its first week of release. Unfortunately, Junior Mafia had a multitude of internal conflicts which lead to its inability to continue without Biggie. The group was still a great example of what it means to put your whole team on.

1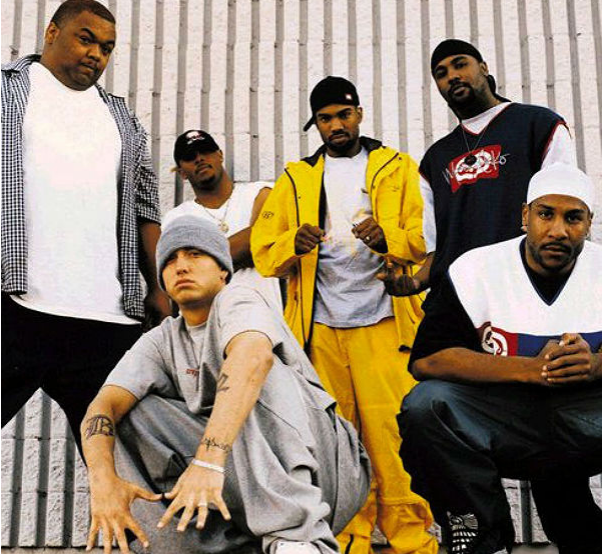 Eminem and D12
"Nothing but family up in this muthafucka' Loyal to everything that we do" ~ Kon Artist

D12 also known as the Dirty Dozen, was a small hip hop group of close childhood friends from Detroit, Michigan, and while D12 did have some pretty solid chart topping hits as a group it wasn't until group member Eminem rose to fame that the group really became a mainstream name. While Eminem was becoming very successful on his own he never forgot to keep the members of D12 close, continuing to release albums like Devil's Night in 2001 and D12 World in 2004 with consisted of hits such as "Fight Music", "Purple Pills", "My Band", "How Come" and "Shit on You". However, after the death of member Proof, D12 became less active. Leading to the subsequent end to the group.
Recent Posts
Outside is slowly opening up!!We miss you!!! It has been exactly 2 months that the showroom has been …

Recently, a customer called concerned because he saw a "bad" review about us online. I asked him whe …

Alright it's that time of the year again and you know how it goes down. We eat waaaaayyyyy too much! …