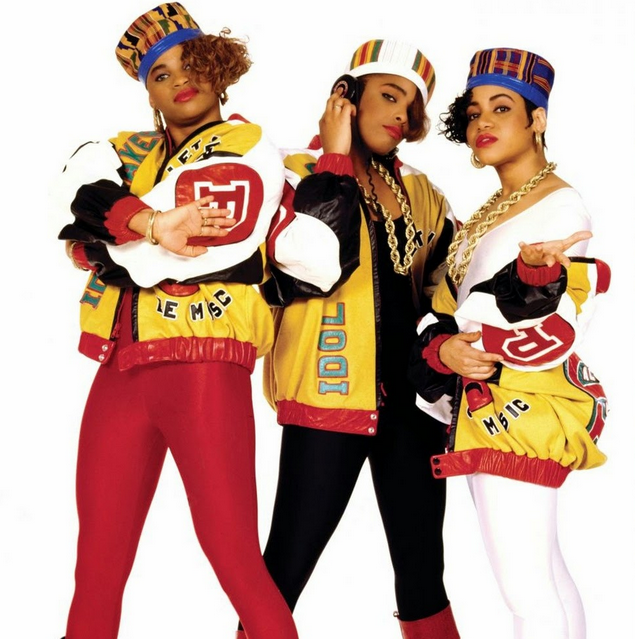 From the moment the first rapper stepped on the scene it was clear that this was more than just
music. Rappers have always had this unique ability of uniting people of all races, ages and
genders and as time pressed on it became evident that Rap was not a trend, it was a part of a
movement and as it evolved it became recognized as a culture. The culture began to creep its
way into politics and has had a major impact on the fashion world. Over the years Hip Hop artists
have dropped their flavor on conventional clothing from tees, multicolored leather jackets, sweat
suits, sneakers, hats, and much more. Popular accessories included gold rope chains, Kangol
caps, designer shoes and even non-prescription Cazal frames. All of which have become timeless
staples in the hip hop fashion world.
While most brands focused on menswear, as the genre evolved it became impossible to ignore
the unique flavor Female Mcs brought to the game. It was evident that these women did not come
into the rap game just to have their voices heard, they also wanted to set a standard for women's
hip hop fashion trends and they did in more ways than one.
Let's take a look decade by decade at the evolution of women's wear in the hip hop fashion world.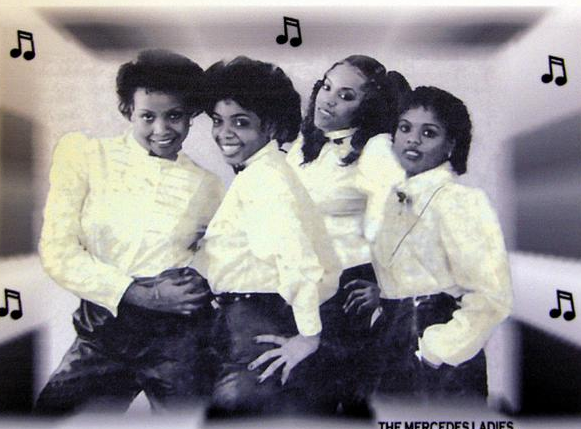 The Beginning in the late 70's - The Mercedes
Ladies are known as the first females of hip hop.
They were the first all female rap crew. Their style
was classic and conservative. Polos, Button ups
and form fitting jeans made up their uniform. Kitten
heels and flats were the thing of that era. Their
style was that of the everyday black women in
America. However, when on stage they did rock
Gold Lame button up shirts.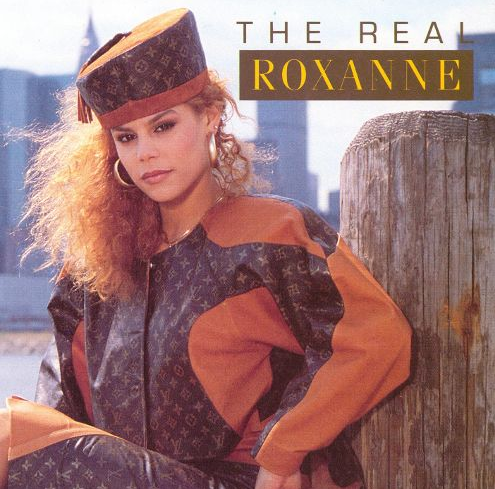 The Baggy clothing era of the 80s - The 80's gave birth to a variety of female MC's both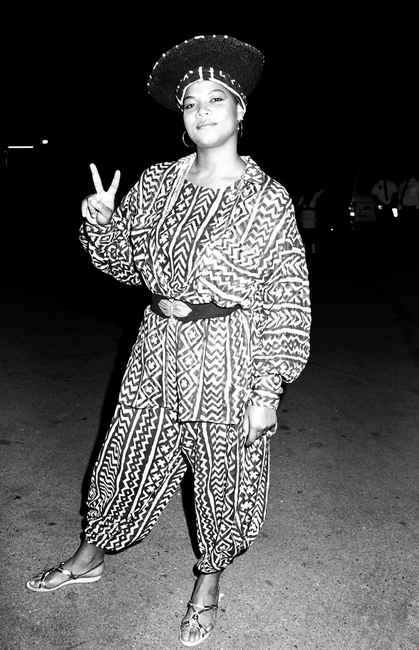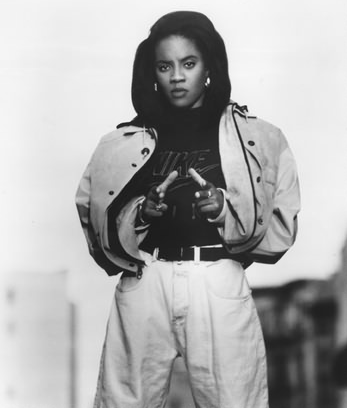 groups and single MC's which
included artists such as
Roxanne Shanté, The Real
Roxanne, Queen Latifah, and
Salt N Pepa. In the beginning,
it was mostly all about the
baggy apparel in mainstream
women's fashion, making it
"cool" for girls to wear
oversized tees with baggy
jeans, jackets and a
snapback.
The Real Roxanne introduced a distinct designer flavor into the game by rocking a custom made
Louis Vuitton suit on the cover of her album. Queen Latifah took an afrocentric approach and
wore African Print "crowns" and clothing to compliment her royal raps which lead Salt N' Pepa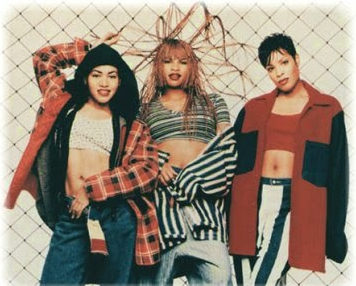 to pair their kente cloth hats with those famous colorful varsity leather jackets, gold chains, and
even sometimes floor-length cardigans. Later they added a feminine flair by adding thigh-highs
and crop tops underneath. MC Lyte and Roxanne Shante had a similar style wearing a lot of
darker primary colored varsity jacket and loose baggy jeans and sweaters. But don't get confused
these oversized looks still had a feminine edge to them. As the 80's closed out it was clear to see
that female MC's were evolving more into a sophisticated sexy look.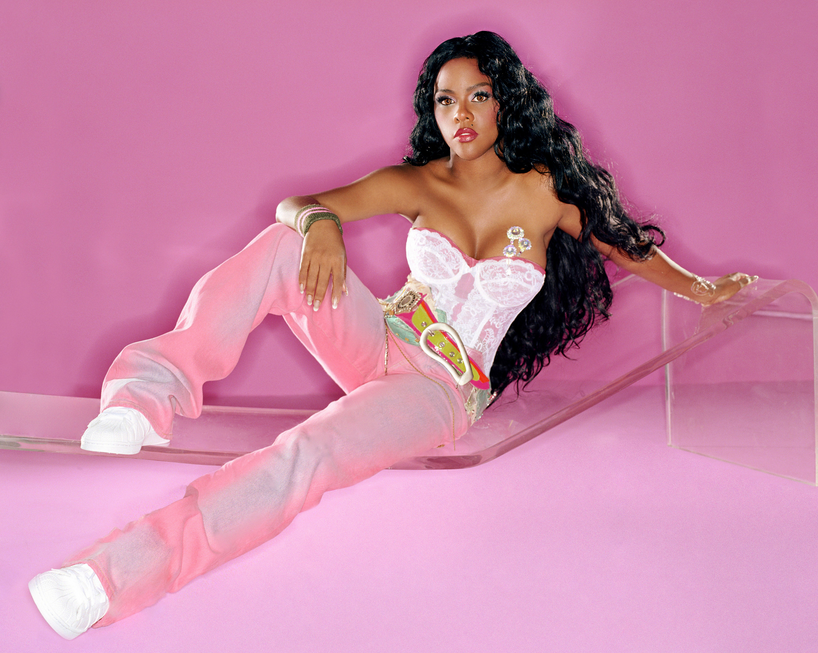 The "show em what you got" era of the 90s - By the mid 90's the shift was becoming clear. While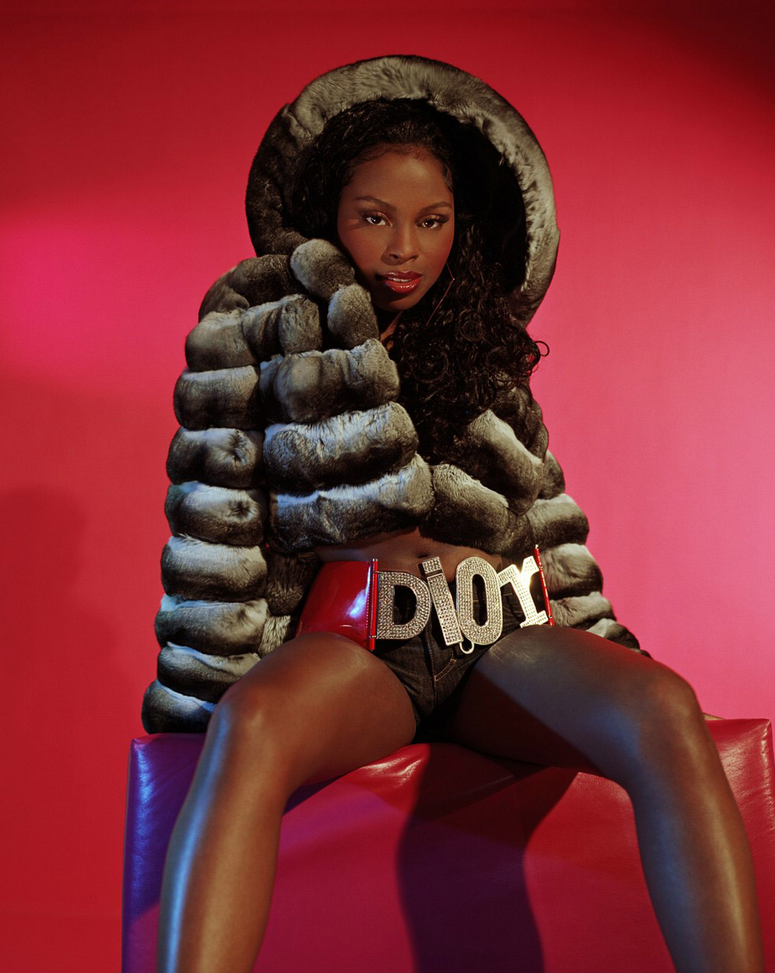 you still have Lisa 'Left Eye' Lopez, Missy and Lauryn
Hill wearing a equal mix of baggy and form fitting
clothing artists such as Lil Kim, Eve, and Foxy Brown
opted for the 'barely there' look. For most, Lil Kim was
the quintessential female rapper of the '90s and a crucial
part of the East Coast's Hip Hop movement as a whole.
Her sexy lyrics demanded a style filled with sex appeal
and she had no problem pulling it off. Her wardrobe
often included bright colored leotards with short shorts,
paired with a funky fur and snakeskin knee high boots.
The Brooklyn born star made it clear that she was going
to wear whatever she wanted. This was especially true
when she posed squatted down on her self-titled album
"Lil Kim" rocking a leopard print bra and panty set with a
fur, this statement certainly set a trend. Foxy Brown's
style was fairly similar to Kim's as she continued the
trend of the free spirited looks with a Trini flair. A distinct
difference in their style was the color palette that they each choose, Foxy stuck to neutrals while
Kim opted for bright colors. Though interestingly enough, they both opted to rock the exact same
bodysuit in the photo liners for their debut albums. Foxy definitely switched things up in the cover
art for her 1999 album Chyna Doll and it was anything but simple, the Mc is seen rocking blue
body paint paired with shorts and heels, nothing baggy about that!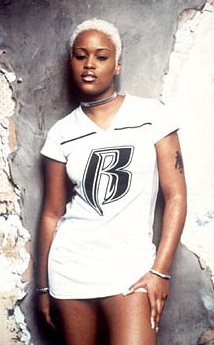 Ruff Ryders first lady Eve always had her own unique style also the only female in her crew it was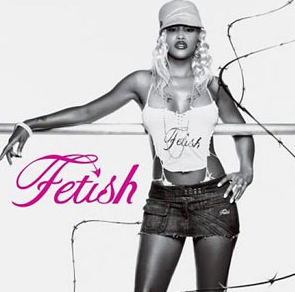 clear that she owned her unique style and was a leader
in fashion. In 2003 she even started her own clothing line
fetish which was a mix of sexy denims and tops. Eve
knows just how to tie together sexy, sophisticated and
rugged at the same time, this really set her apart from
the rest.At a time when owning your sexy was the in
thing there was still plenty of balance and variety which
was the perfect representation of what you saw in the
general population across America. Missy Elliot, Lauryn
Hill and Left Eye still represented for those that loved the
baggy look. They rocked oversized track suits and large
tees, baggy jeans and jackets. Occasionally Left Eye
mixed in a crop top to add a little sex appeal. It's safe to
say that the 90's began the era of empowered female Mcs who said what they wanted and
certainly dressed the part.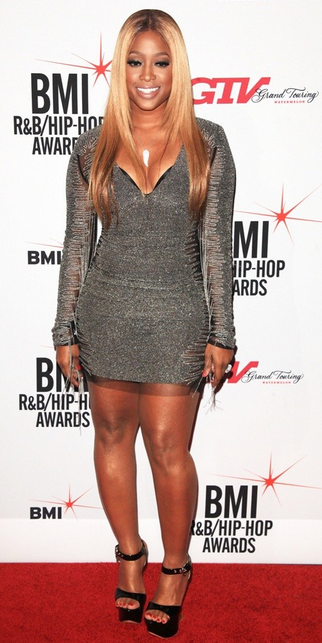 The "I'm Rich Bitch' 2000's - By the new millennium it was safe to say that
there was a lot of money floating around hip hop and the female Mcs
such as Remy Ma, Trina, and even Nicki Minaj wanted you to know it.
Along with baggy being a thing of the past everything was designer, and
tight and form fitting was the way to go. Trina brought that Miami heat to
the game with form fitting dresses and low cut tops along with bright
patterned matching sets.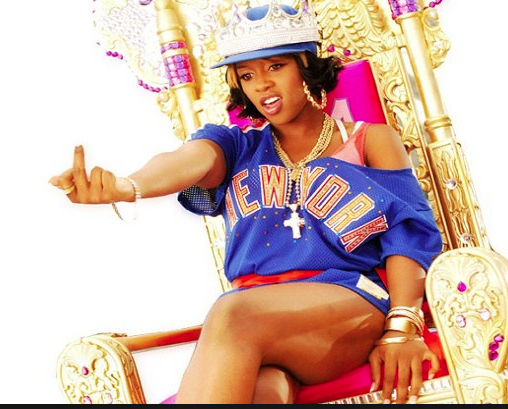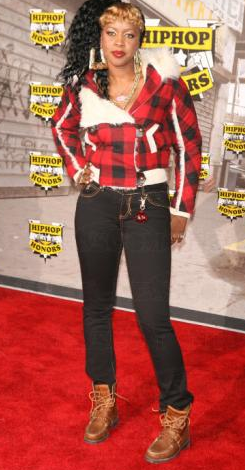 Remy Ma brought that Boogie Down
flavor matching sexy with hood
wearing bright colored halter tops and
designer jeans. Both of which set a
standard of dressing for artists to
follow and for woman and designer to
strive to incorporate in their closets
and lines.
As Young Money first lady Nicki Minaj came into the scene towards the end of the era she
ushered in a stye that was all her own and very much character driven. It was somewhere in
between the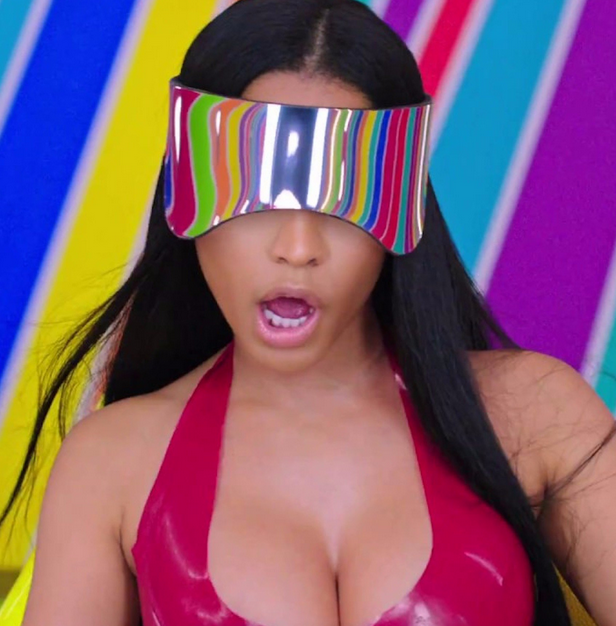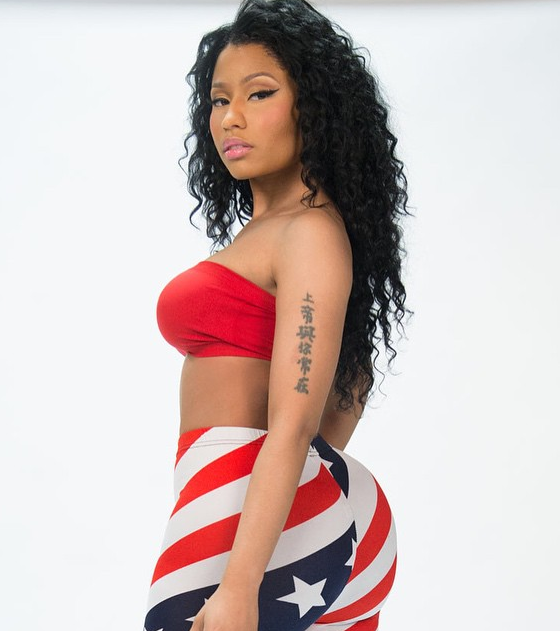 bright and tight mismatched patterns of the early 2000s and today's style, which essential ties in a
nice mix between aspects of every era while not all baggy and not all tight and form fitting.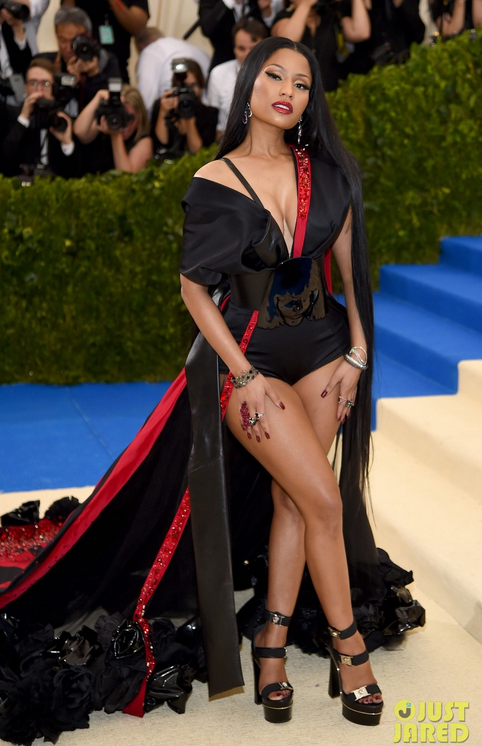 What goes around come around - As we enter into the second decade of the 21st Century it
seems as though we have come full circle. Acid Washed Jeans are back ripped denim is huge.
Designer anything is still making waves and baggy jeans now known as boyfriend jeans are worn
by everyone. It seems as if there isn't just one look that any artists wears. It is definitely more
about their mood at any given time. Even so, it is still true that the hip hop trends of all of the
decades have still managed to find a place in ruling today's fashion world.
Recent Posts
The year is 1983 and you're rushing home, eager to watch the latest hip hop videos and interviews fr …

It's the perfect way to kick off our Silver Anniversary year! Check out our feature on the Bk Reader …

Travel season is upon us, revamp your accessories to get ready for all of your summer plans.1. …